Follow YPG on social media!
Mission
Southern California Glass Management Association's (SCGMA) Young Professionals Group (YPG) aims to strengthen and shape the future of our industry by investing in the growth of the young professionals that are employed by SCGMA companies. Additionally, the program creates opportunities for young leaders to expand their network of mentors and peers and further develop professional and personal skills to advance their careers.

Definition of "Young Professional"
A Young Professional is defined as an employee of an SCGMA affiliated company that is less than 40 years old or has less than 6 years of glazing construction industry experience.
SCGMA YPG Committee Members

Benefits of Being a Young Professional
Build a network with other YPG members and experienced contractors.
Being exposed to resources, educational events, dynamic speakers, mentorship programs, strategic networking, panel discussions, the SCGMA Board of Directors, and soft skills training.
Receive monthly e-newsletters with helpful articles on professional development and the industry.
Be a part of something bigger than yourself by participating in community service events.
And more!
YPG Articles and Resources
May 2nd-6th marks Construction Safety Week, an annual industrywide education and awareness event. The theme for 2022 is "Connected. Supported. Safe." In our industry, safety goes beyond eliminating work-related injuries, it bonds our workforce together and ensures that we are always supported. Read on to learn more.
It is no secret that part of being a leader means having the ability to stand up in front of a group of people and effectively deliver information. Leaders regularly utilize their public speaking skills whether they're presenting information to their team, various stakeholders, or business leads. Even if a leadership role isn't your career goal, improving your public speaking skills will be beneficial to your overall professional development.
This year, March 6th-12th marks the annual Women in Construction (WIC) Week. Founded by the National Association of Women in Construction (NAWIC), WIC Week strives to strengthen and highlight the accomplishments of women in the construction industry. Read on to learn more about the importance of bringing awareness to this cause.
As a Young Professional, the key to success in any role is to familiarize yourself with the industry. The glass industry is vast and constantly evolving, which makes it all the more important to be informed of what's going on in our industry. Fortunately, we have many resources available to help us grow our overall industry knowledge. Read on to learn more.
We frequently have to address conflicts throughout our daily lives – with friends, family, and in our professional lives. Leadership roles and conflict-management go hand in hand, it's part of the job. Leaders that embrace conflict are able to reach a resolution before the problem escalates. Read on to learn more about managing conflicts in the work environment.
Delegation is considered key to successfully managing and leading people. However, delegation can be tricky business. Rather than just handing off tasks to subordinates, effective delegation skills emphasize allocating the right tasks to the right people. Read on to get tips on how leaders effectively delegate.
Good communication is essential for maintaining strong functioning relationships at all levels of the organization. An organization that lacks communication often results in internal conflict due to the rising amount of distrust and confusion among the employees. Thus, leaders carry the great responsibility of maintaining and strengthening the flow of communication within the workplace. Read on to learn more about mastering the art of communication.
Trust is essential to the efficiency and success of a strong team and positive company culture. Establishing trust allows for a culture ingrained with honesty, integrity, reliability, and mutual respect which in turn boosts morale and motivation. So how do we build trust in the workplace? Read on to learn more.
If you're uncertain about what's next in your career path, consider pursuing a mentorship! This enriching experience will often lead to long-lasting perks and serve as a resource for you to take advantage of throughout your careers. Read on for some tips to keep in mind as you embark upon your mentorship journey.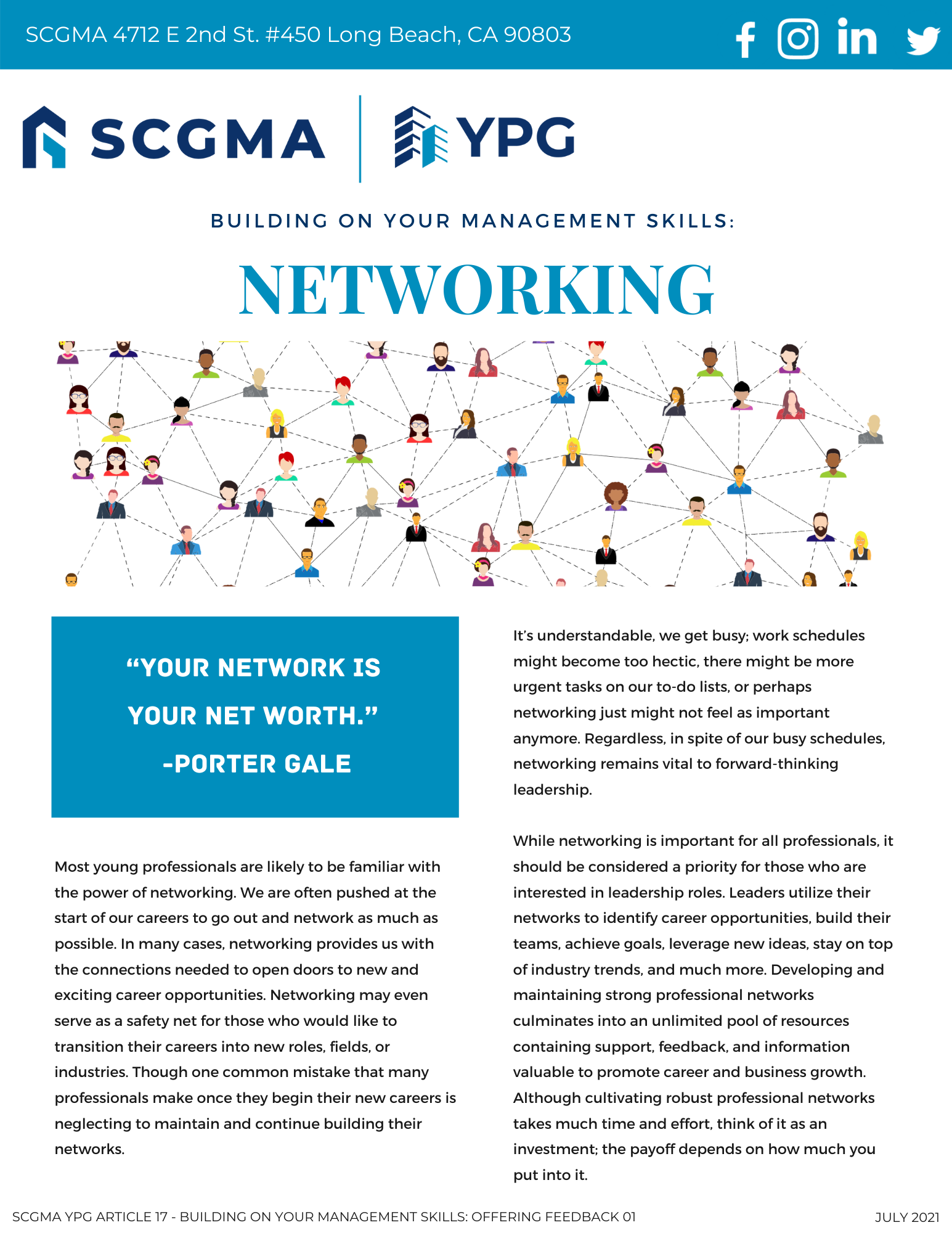 In today's competitive environment, networking has proven to be an essential and powerful tool to help one stand out. Read on for some tips to help build your professional network!
Introducing YPG's new article series Building on Your Management Skills, this first piece will focus on how you could master the art of delivering feedback to your team.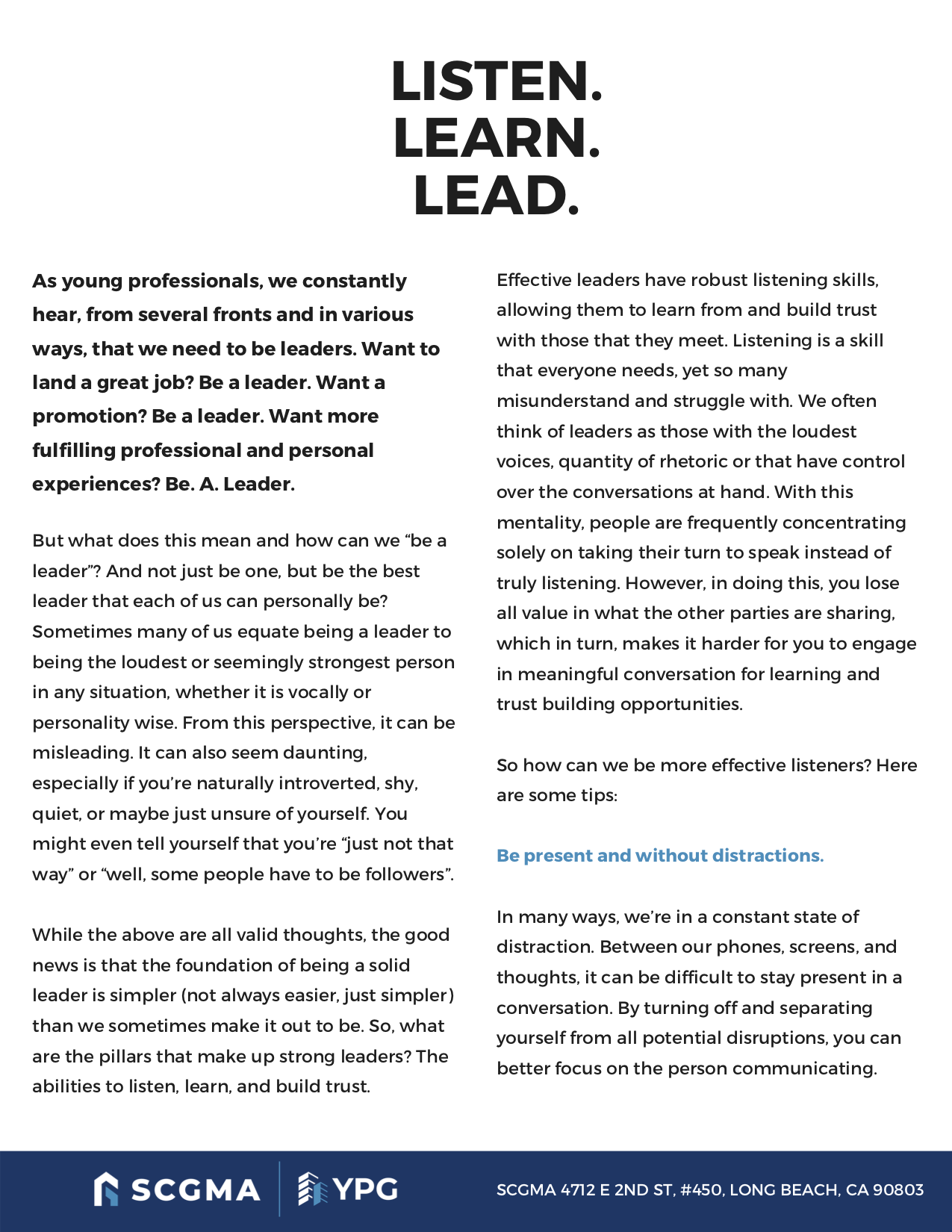 What does it mean to "be a leader"? Read on for some useful tips that you can start implementing today.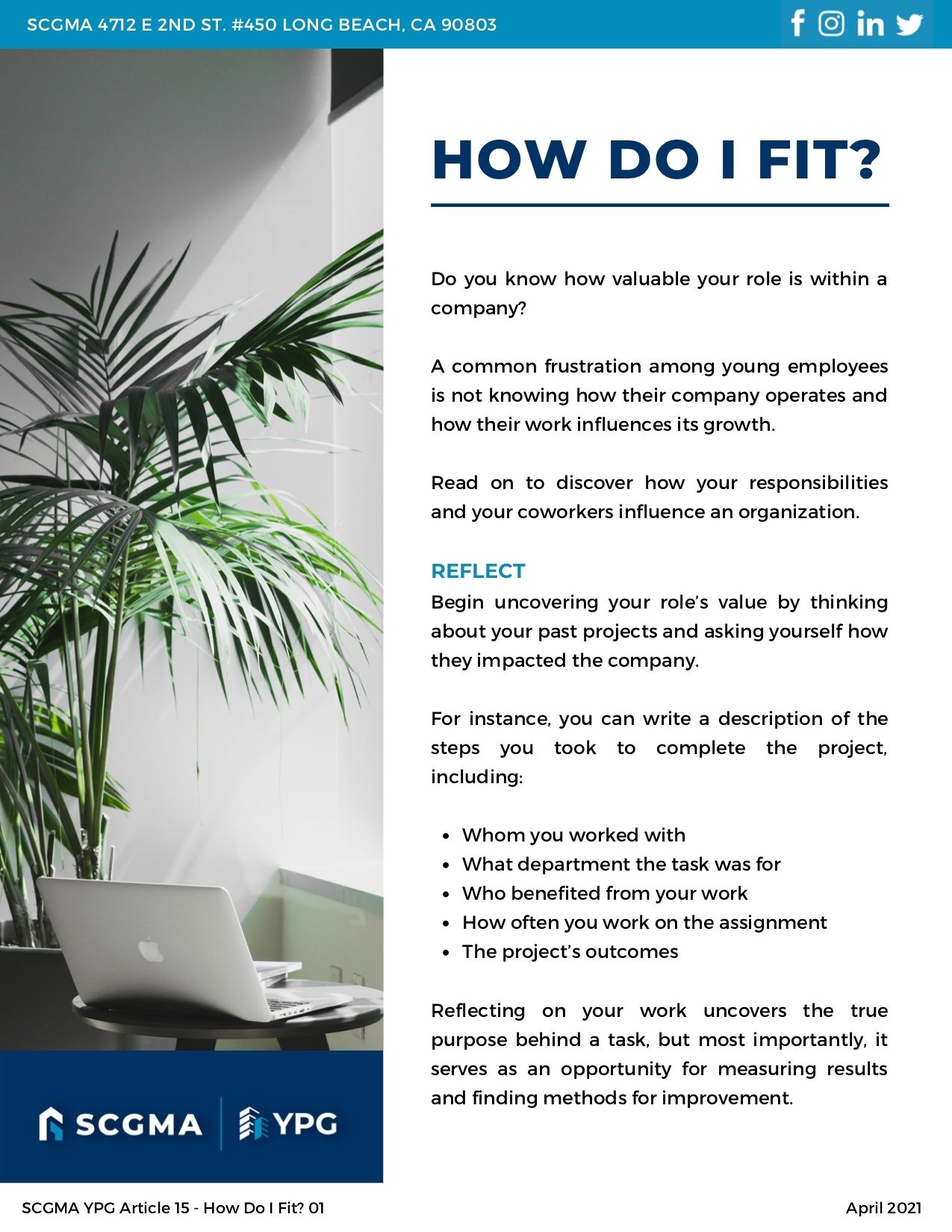 Read on to find out how you and your colleague's roles fit into the "machine" that is your company.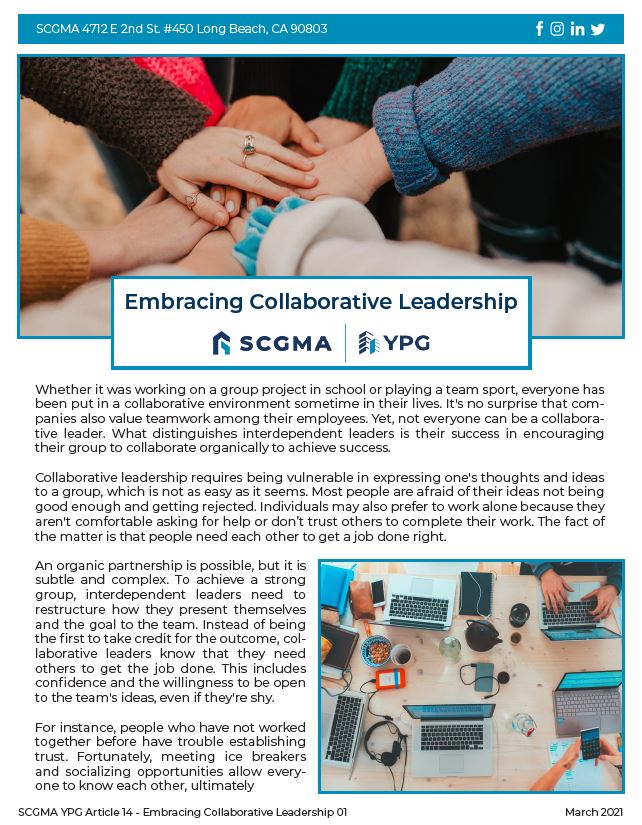 Read how you can motivate your team to participate organically with this quick read.
What is personal branding exactly, and how can it help you shape your career? Read this article to find out!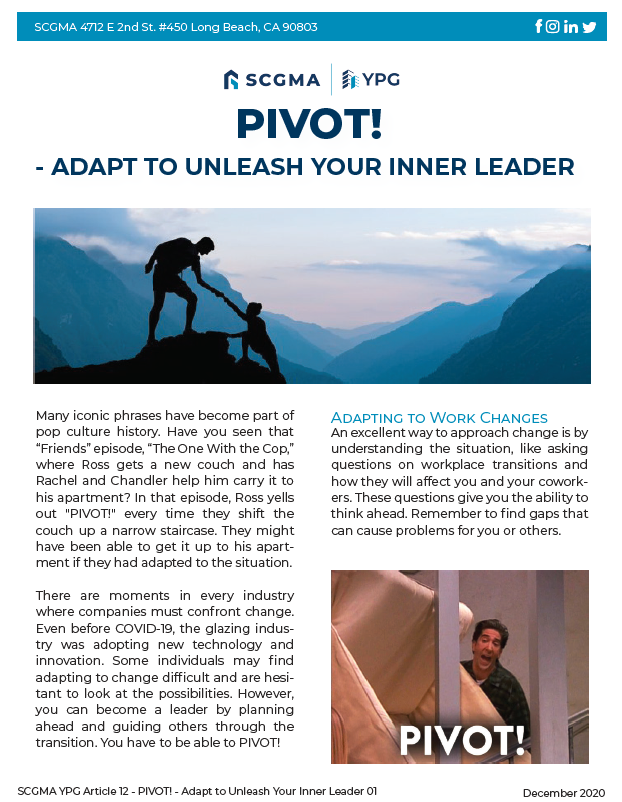 Embracing change helps you not become obsolete in your industry and in your position. Find out how you can become a leader when you adapt to workplace changes.

Don't be afraid to think outside the box or present a groundbreaking idea at work. Read on to get tips on how thinking differently can help your productivity and achieve success at work.

COVID-19 has shifted the way businesses operate, with many employees now working from home. Find out how to overcome common obstacles and succeed in your field while working remotely.

Learn about the evolution of glass and how its uses have changed throughout the years, brought groundbreaking results to the industry, and implemented new ideas in design and architecture.

Unleash the abstract skills you didn't know you had and find out how to apply them to the workplace with this mind-blowing article.

Curtainwall and storefront systems are often used in different sections of a building and can serve different functions. Find out what those functions are with this informative article.

Being teachable can add to your career skills and training, but it can also change how you think about improvement. Read this article to discover what it truly means to be teachable.

It's almost impossible for anyone to avoid leaving a digital footprint in today's world. Immerse yourself with the positive and negative issues with an online presence and consciously manage your digital footprint.
The ways in which you can invest in yourself are vast. Discover how you can get started by contributing to your 401k or IRA, taking advantage of matching programs, and pushing yourself with educational training.